Albums are usually never discarded into landfills. Most are kept in a collection due to their increasing value. Most album manufacturing companies actually shred and re-use the ones that do not sell. Discounts are offered to artists that return their unsold 45's for shredding and re-pressing a new 45 with new songs. Compilations that are actually discarded into landfills have very little environmental impact due to the fact that the vinyl material can be better broken down naturally in comparison to many other plastics.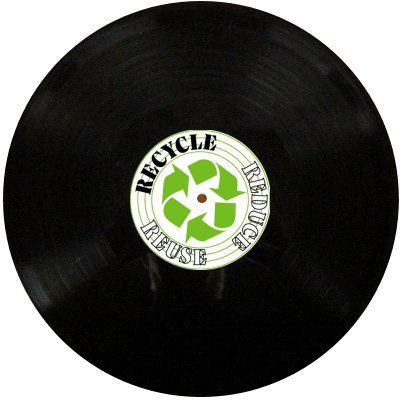 Lp's and 45's can be recycled and you can minimize their impact on the environment by taking care of them in a responsible manner. By cleaning, taking out the center label, and shredding, it can be re-used in other products. However, albums are also popular as collectors' items and craft items, so there are other ways to reduce their environmental impact. If everyone were to discard them in this way, their impact would be minimal.
The "comeback" of the LP and 45 is welcomed by many environmentalists and "green" organizations. CD's and DVD's are basically "disposable media" due to many factors. Almost anyone with a computer can burn CD's and DVD's. Commercially distributed CD's and
DVD's actually hold little value whereas an album is collected and cared for by its' owner. Tossing a damaged 'Stones CD required little consideration however, tossing a 'Stones album that may have a scratch or two, just isn't "the norm". The album covers, jackets, etc can appreciate in value even if damaged.
Living in this "disposable society", many people are starting to realize and "see" the impact of our ways on the environment. Going green has been preached by activists for years but, now corporations are following suit. Album sales are increasing as a result by 80% since 2008. Turntables now offer USB interfaces for playing through computers or converting your coveted album to MP3's on your portable listening device. A welcome trend to this otherwise cold digital world.
Cell Phones, Recycling & Reuse
Tens of millions of cellular telephones are put in boxes every year, never to be used again. That's too bad. Phones are useful, and contain toxic materials. They should be recycled.
Now you can donate your old wireless phone. Some programs send phones overseas service, or domestically to people in abusive relationships (the phones are programmed to call 911 only). Phones or phone parts (like batteries & cords) are collected. Try to collect as many parts as possible. Drop your phone or phone parts at any Sprint PCS or Staples chain store, or visit ReCellular for mailing information.
Computer Discs
Several processors now recycle computer floppy disks. Unsold software is disassembled and separated into paper, plastic and disks. The disks, with are effectively brand new, are erased, formatted, tested, labeled, and reused. GreenDisk of Redmond Washington sells reclaimed disks as GreenDisk Recycled Diskettes. Individuals and companies may also send defective disks & tapes directly to the company which will shred and recycle the plastic and metal. For more information, visit GreenDisk, Inc..
Eyeglasses
The old lenses that steer you into walls may be the perfect gift for someone in need. Chances are an optician or club in your area collects eyeglasses for reuse. Collected eyeglasses are cleaned, repaired and measured to determine the correction. Available glasses are cataloged in a computer database, and matched to people with need. Many of the glasses are sent to other countries, as laws in the USA make it difficult to re-dispense a prescription product. Another option is to have your old glasses tinted to turn them into into sunglasses.
The Lions Clubs operate the largest program, collecting glasses from thousands of opticians. Of the chain stores, LensCrafters, For-Eyes and Pearle collect glasses chain-wide. Several organizations accept eyewear by mail (use a search engine to find them). One example is:
New Eyes for the Needy 549 Millburn, PO Box 332, Short Hills, NY 07078. Accepts scrap metal frames in any condition, unbroken plastic framed glasses, non-prescription sunglasses, any precious metal scrap like broken jewelry and monetary donations. In Canada send glasses to The Low Vision Clinic, 1929 Bayview Ave., Toronto, ON M4G 3E8.
Holiday and other cards
Since the mid 1970's Saint Jude's Ranch, a non-profit youth home, has operated a holiday card reuse program. The ranch provides counseling and opportunities for troubled youth. The kids operate a business taking used greeting cards, neatly cutting off the front covers, gluing on new back covers, and selling the result. The kids earn money, experience and a sense of purpose.
You can send either entire cards, or cards with the backs cut off. Send bundles of cards via UPS ground or the "library rate" rate at the post office. St. Jude's Ranch Card Recycling, 100 St. Jude Street, Boulder City, NV 89005.